Research Report 6 - Electorally Engaging the Homeless
Updated: 15 January 2013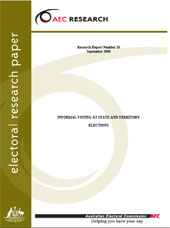 Electorally Engaging the Homeless
Author: Gina Dario
Date: February 2005
ISSN: 0816-3154
Contents
Joint Project
This project is a result of a strategic partnership between the Australian Electoral Commission (AEC) and Swinburne University. In 2003, the AEC and Swinburne University entered into a strategic partnership to study the homeless cohort and their attitudes towards the electoral system. The result was two publications, the first being this paper published by the AEC.
A second paper written by Swinburne University is an abridged form of this paper but also contains some views, which do not necessarily reflect the views of the AEC, a point acknowledged in the Swinburne paper. The Swinburne paper has been forwarded to the 2005 Joint Standing Committee on Electoral Matters (JSCEM).
Enquiries
Enquiries can be made by email to the Research Section of the AEC via an online enquiry or by calling (02) 6271 4411.