Our environment, risk and capability
Our environment
This year marks 100 years since the Commonwealth Electoral Act 1918 (Electoral Act) was enacted. Since then, the expectations of our stakeholders and the way in which the AEC conducts elections continues to evolve, presenting a complex and dynamic operating environment for the AEC.
The Australian electoral system presents a number of unique challenges. With no fixed date for federal elections we must be ready to deliver an electoral event at any point in the electoral cycle. We do this through effective election planning and balancing the appropriate level of 'election readiness' with our financial environment.
Australians travel an increasing amount for both work and leisure and expect to be able to vote how and where it is convenient to them. This needs to be considered in election planning. The AEC remains acutely aware of greater demands for more accessible and convenient voting options. The AEC goes above and beyond to provide early, postal, inter-division and interstate, mobile and overseas voting options and services. Comprehensive preparations and planning ensure that we are able to deliver these often logistically complex voting options with the appropriate number of ballot papers, materials and temporary workforce in place to enable a seamless and nationally consistent voter experience.
Demand for these voting services continues to grow as our population increases. Advances in technology provide opportunities for the AEC to reinvent and evolve the way we conduct our business. The AEC continues to seize opportunities to incorporate technological solutions to deliver more efficient electoral events and internal processes, better manage the health and safety of our staff, and provide a voting experience in-line with stakeholder expectations—all while actively managing the associated challenges and risks.
The Electoral Act outlines a highly prescriptive process for the conduct of elections which must be balanced with evolving technological, demographic and stakeholder demands for error free, transparent, modern and efficient electoral events. This presents the AEC with an ongoing challenge which we methodically and strategically manage through the six agency directions outlined in this plan.
Our capability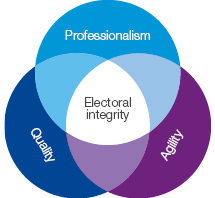 To ensure we can continue to deliver effective and secure elections into the future, we need to continue to modernise our systems and processes to adapt to change. We also need to recruit, train and support a professional workforce.
Our work is guided by the AEC's values of electoral integrity through professionalism, quality and agility. These inform the agency's strategic planning and day-to-day operations. Our values frame how AEC staff work to maintain our commitment to electoral integrity.
This means:
Quality must be evident in every task across the AEC. Best practice drives every aspect of our business.
Agility is critical. We must readily and swiftly adapt to change. We must operate effectively despite uncertainty, always looking for innovative solutions to meet our challenges.
Professionalism is our hallmark. A professional AEC comprises competent, knowledgeable and highly skilled electoral practitioners producing work of the highest standard.
Building our information technology capability
IT systems and infrastructure are key to our delivery of electoral events. However, our core election and enrolment systems are ageing and costly to maintain.
A revised strategic plan for information communication technology will help to plan investment and align capability to the long-term business strategy of the agency. In parallel, we continue to develop a modernisation business case for the replacement of core election systems. We are working towards an outcome where:
our systems are agile and adaptable.
we use a single modern platform.
IT is fully integrated and sustainable, widely used, understood and user-intuitive.
our systems meet the expectations of our stakeholders and our workforce.
Security
Implementation of the 36 mandatory requirements of the Protective Security Policy Framework (PSPF) frames the way we manage challenges to our governance, personnel, physical and information security.
In addition, we continue to work closely with government, security and policing agencies in response to events in the external environment.
Our strategic human resource management
The AEC's workforce is integral to the delivery of successful electoral events. With an office network of APS officers across Australia and a 'surge' workforce of around 80,000 at a federal election, the AEC is focused on ensuring that staff are appropriately trained and supported.
Following implementation of an organisational design review, our new structure allows us to continue delivering high quality electoral services, while ensuring we have the required capability to address future objectives. As part of the review, a national training and education unit was established to ensure we deliver on our strategic priority to professionalise our workforce.
Our risks
Our approach to risk
Risk management is an important part of the work we do. We are committed to effective governance that recognises potential threats and opportunities, while managing strategic and enterprise risks in line with our risk appetite.
Our risk management policy outlines how we identify and manage risks, including roles and responsibilities. Regular reporting and analysis, and the escalation of risk exposures, help to build a culture where risk conversations are part of our everyday decision making.
Our strategic risks
Potential threats
Inability to meet increasing community expectations for voter-centric electoral services leads to decreased engagement in elections.
Opportunities
Opportunities exist to modernise the Australian electoral service model through learning and collaboration across jurisdictions.
Our enterprise risks
Agency direction
Identified risks

Deliver high quality electoral services

Insufficient fiscal and human resources.
Failure to maintain integrity in electoral roll information.
Failure to maintain integrity in election results through a loss of ballot papers or other means.
Failure to adequately educate voters may contribute to a decline in voting participation and/or formality.

Continue to improve and modernise the delivery model for electoral events

Failure to seize opportunities to modernise future models of election delivery due to resource constraints.
Failure to build new technology applications with sufficient agility to respond to future changes in electoral legislation and policy.

Govern the organisation for quality and assurance

Failure to detect and prevent cyber and/or physical security threats.
Failure to align funding and resource allocation against AEC priorities.

Professionalise our workforce

Inability to maintain and/or obtain a capable and trained APS and surge temporary workforce.

Uphold the reputation of the AEC

Failure to engage effectively with key stakeholders on critical issues that affect the reputation of the AEC.
Unsuccessful in managing stakeholder expectations leading to adverse outcomes.

Build an agile and responsive organisation

Inability to effectively implement change.
Inability to meet voter expectations within the Electoral Act.
Other performance measures
The regulator performance framework
As a regulatory body we aim to reduce the regulatory burden imposed on electors through enrolment and voting services.
In line with the Australian Government's commitment to reducing the cost of unnecessary and inefficient regulation imposed on individuals, business and community organisations, we measure our performance against the regulator performance framework.
This measures our performance against six mandatory key performance indicators set by the Australian Government.
The following table outlines our performance against our measures of success.
Our performance against the regulator performance framework
Mandatory key performance indicators under the regulator performance framework
Our measures of success – what we do to ensure we meet these performance indicators

Regulators do not unnecessarily impede the efficient operation of regulated entities.

Support electoral participation and voting formality through communication, education and public awareness activities that inform all Australians of electoral matters.

Communication with regulated entities is clear, targeted and effective.

Make available timely and accurate information and services to stakeholders when carrying out their legislative responsibilities and obligations.

Actions undertaken by regulators are proportionate to the regulatory risk being managed.

Maintain an appropriate level of readiness to conduct a federal election event.

Compliance and monitoring approaches are streamlined and coordinated.

The governance framework is effective in supporting business outcomes.

Regulators are open and transparent in their dealings with regulated entities.

Timely and accurate information and advice on electoral administration that supports the direction of the AEC.

Regulators actively contribute to the continuous improvement of regulatory frameworks.

Maintain a cycle of continual improvement through the election readiness framework.
Invest in and deliver strategies that increase organisational capability.
Our Portfolio Budget Statement
Our Portfolio Budget Statement (PBS) outlines the AEC's proposed allocation of resources for delivering government outcomes.
In the PBS, the AEC has one outcome:
Program 1.1 — To deliver electoral events.
The PBS performance criteria to deliver this program are similar to the functions in the corporate plan.
How the PBS performance criteria are aligned with the agency directions is shown in this matrix.
Our Portfolio Budget Statement (PBS)
Performance criteria
Agency directions

Elections, by-elections and referendums

Federal electoral events are successfully delivered.
Maintain ability to conduct a federal electoral event within a timeframe.
Timely conduct of redistribution activities.
Industrial elections, protected action ballots, and Torres Strait Regional Authority elections are delivered in accordance with the relevant legislation and rules.

Yes

Yes

Yes

Yes

Yes

Yes

Electoral roll management

High level of confidence in the electoral roll.

Yes

Yes

Yes

Yes

Yes

Yes

Party registrations and financial disclosure

Party registration processed in accordance with the Electoral Act.
Financial disclosures obtained and placed on the public record in accordance with the Electoral Act.

Yes

Yes

Yes

Yes

Public awareness

Deliver communication, education and public awareness activities to inform all Australians of electoral matters.

Yes

Yes

Yes