Your vote – your privilege – and your responsibility
Updated: 31 January 2011
Being heard
Parliament is at the centre of government, making decisions and passing laws on issues which affect your life every day. Voting in a federal parliamentary election is how you can have your views heard and is your opportunity to choose who represents you in the federal parliament.
Claiming and exercising our electoral rights
In Australia today, citizens over the age of 18 can vote. Over the years, many people and groups in Australian society have campaigned to ensure that the franchise is enjoyed by all adult citizens. On several occasions, Australia has been at the forefront internationally of efforts to extend the franchise. This was the case with the push for women's suffrage in the late 1800s, and the lowering of the voting age from 21 to 18 in the 1970s.
Being active in the electoral process enables you to have your say in who runs your country, paying the ultimate respect to those people who worked to secure these rights on your behalf. It is not only your right and privilege to vote, but your responsibility to do so.
It is a great privilege to be able to choose those who govern us because in many parts of the world today not everyone is as fortunate. The AEC works closely with international electoral organisations to help build election management capacity in other countries whose governments want to run free and fair elections.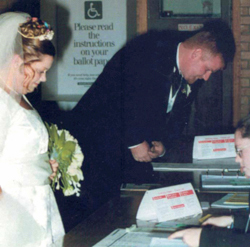 People around the world have gone to great lengths to make their votes count. In some parts of the world, people can queue for hours to take part in their country's election.
The AEC has provided international electoral assistance at some historical moments in recent world history – including elections conducted in Namibia in 1989 and Cambodia in 1991, the first universal franchise election held in South Africa in 1994, and the 'popular consultation' (referendum) over independence in East Timor in 1999.
Ensuring Australians have their say
Elections are traditionally held on Saturday – also a popular day for weddings. During the 2001 Federal Election, the Seymour polling place in Victoria came to a standstill when the bride and groom arrived. Immediately after their wedding, the newly married couple walked into the church hall to cast their vote. The 30-metre walk was an arduous task for the bride, who also had her leg in a cast after a fall the week before.
In Australia
A variety of services are provided by the AEC to make voting easy and convenient for those who cannot vote at a polling place on election day.
Early voting centres are designed for people who know in advance they won't be able to make it to a polling place on election day.
Postal voting is an alternative option for people to use who know in advance they won't be able to make it to a polling place on election day, and are unable to get to an Early Voting Centre.
Mobile voting is a personal service provided by the AEC, where ballot boxes are taken to those who have difficulty getting to ordinary polling places. Mobile voting services are provided for people in many hospitals, nursing homes and remote areas of Australia. The AEC has used various forms of transport to take the ballot to remote areas. Originally, horses were used, but in more recent times, 4-wheel drives, light aircraft, and helicopters have made these journeys into our outback.
Living Overseas
For eligible Australians living, working or holidaying overseas, having the opportunity to vote has become an important part of a federal election. The AEC works in conjunction with the Department of Foreign Affairs and Trade, Austrade, and our overseas consular services to provide voting services for Australians travelling or living overseas. They can visit their nearest Australian embassy, consulate or high commission at election time and vote in person.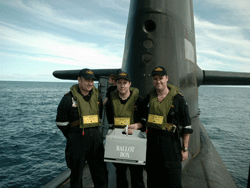 In Antarctica
Working and living in one of the most challenging locations in the world does not prevent Australian citizens stationed in Antarctica from voting in federal elections. Even though voting is not compulsory for Antarctic electors, as the secrecy of the vote cannot be assured (due to the process used to transmit the results), the AEC makes arrangements to ensure every Australian citizen there has the opportunity to have their say.
In order to vote, you need to enrol
When you enrol to vote, your name and address is added to the electoral roll. This is the list of voters entitled to vote in an election. You must enrol to vote if you are an Australian citizen aged 18 or older. You can also enrol if you're 17 years old, so you're ready to vote after your 18th birthday.
The electoral roll closes soon after an election has been called. Make sure you're on it, so you don't miss out!