To be an informed voter in a referendum, it's important to know what the Australian Constitution is and the role it plays in society.
The Constitution took effect on 1 January 1901 and is the founding document that sets out how Australia is governed.
The Constitution has a special status as it overrides all other laws and can't be changed by the Parliament of the day. While the Constitution enables Parliament to create or change laws (legislation), the Constitution itself can only be changed through a vote by the Australian people - a referendum.
What is in the Constitution?
The Constitution establishes our federal system of government and currently contains eight chapters.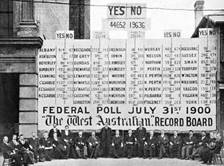 During the 1890s representatives from the six Australian colonies came together at meetings called 'constitutional conventions' to draft a document which would provide for a new level of national government. By 1898 the delegates had agreed on a draft which they took back to their respective parliaments to be approved.
The final draft of the Constitution was approved by a vote of the people who were eligible to take part in referendums, which was held in each jurisdiction between June 1899 and July 1900. The Constitution was then agreed to by the British Parliament, which passed the Commonwealth of Australia Constitution Act in July 1900.
Even though the Constitution was originally part of a British Act of Parliament, its ongoing legitimacy now rests on its approval, acceptance, and ability to be amended, by the people of Australia.
There have been 44 referendums with eight proposed changes approved by a vote of the people. The most recent referendum was held in 1999 with proposals to establish Australia as a republic. The most recent changes to the Constitution were in May 1977, when three of the four questions put to voters that day were successful.
Proposed amendments have been on topics such as giving new powers to the Parliament, how referendums are conducted, and certain kinds of rights and freedoms – see a full list.