Referendums: it's been a while...
AEC launches information campaign
Updated: 12 April 2023
The AEC is today increasing its communication with the nation's 17.3 million enrolled voters following the introduction of the Constitution Alteration (Aboriginal and Torres Strait Islander Voice) 2023 Bill into federal parliament in late March.
Throughout the coming months, AEC communication will strive to inform voters about the Australian Constitution and the role of a federal referendum. Digital advertising, media outreach and the distribution of curated products through community groups and other stakeholders will all point back to the dedicated referendum sub-site now live at aec.gov.au/referendum.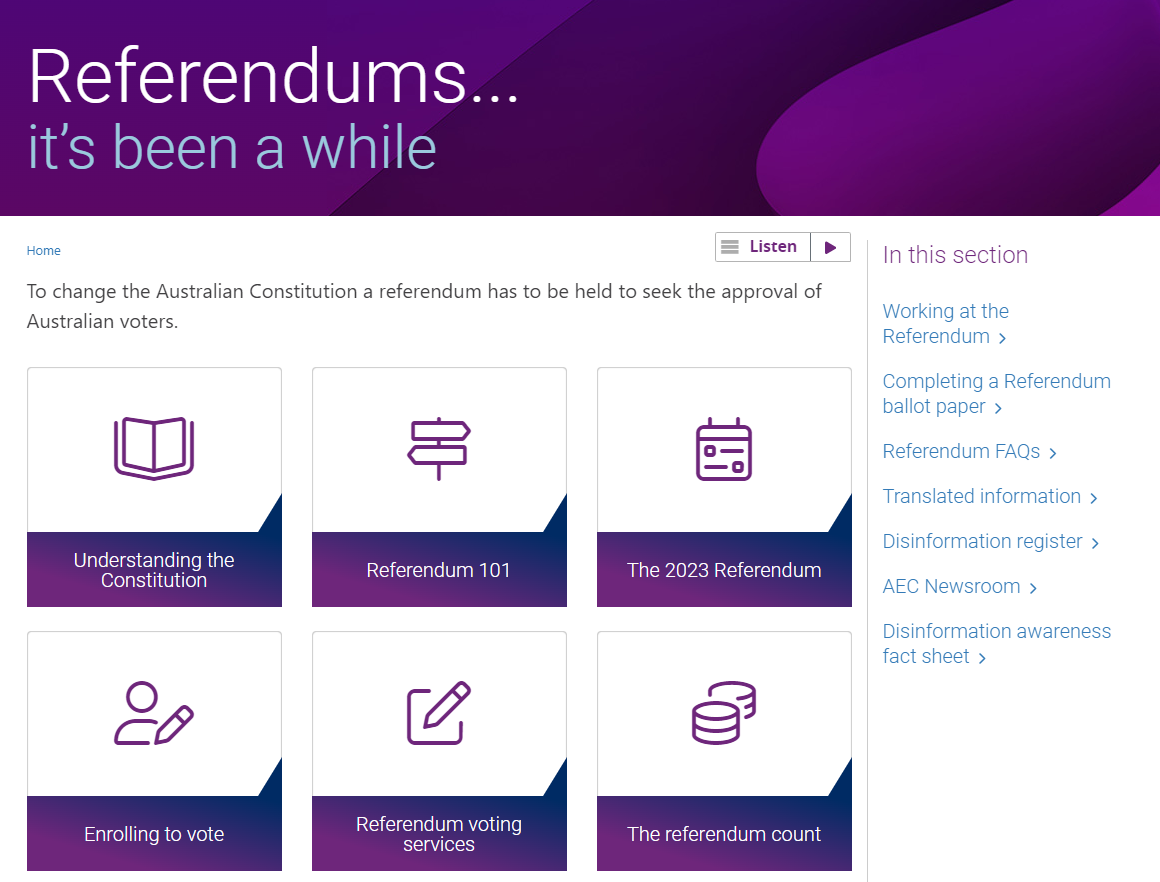 Australians have not voted in a federal referendum in almost a quarter of a century with more than 6.4 million enrolled voters not of voting age when the previous referendum was held in 1999. It is not the AEC's role to explain the topic of a referendum but it is important for the body conducting the vote to explain to voters how that process works.
A range of educative resources, including AEC TV videos, animations, graphics and fact sheets, will be progressively distributed to help Australian voters understand the role of a referendum. The social media accounts of the AEC will continue to be an active proactive and reactive presence – pushing out messages regarding the history and role of federal referendums.
AEC TV video:
What is the Constitution?
Media resources:
Media representatives play a pivotal role in informing Australians on a range of issues. In addition to conducting a series of dedicated referendum media briefings over the coming months, the AEC will once again be accessible for comment and interview to help inform accurate and educative coverage of electoral processes.
Quotes:
Australian Electoral Commissioner, Tom Rogers
"We're taking all the necessary first steps to kick off an education phase for the Australian public in order for all to understand how referendums work and the AEC's role."
"The Constitution plays an active, daily role in the lives of Australians but it's not on everyone's coffee table at home, so it's appropriate that ahead of a referendum we explain what it is and the upcoming process that seeks to change a part of it".
"More than 6.4 million enrolled voters have never voted in a referendum before. Some may not even know that it is compulsory to vote in a referendum and you will need to vote in-person, similar to a federal election."
"The topic of the referendum is for others to debate but when it comes to the process, we'll be running it and we're here to help inform Australian voters and answer any questions they might have."
"Knowing what the Constitution is and what the role of a referendum is will clearly be vital in providing a solid foundation for how people consider their opportunity to vote in the back half of 2023."
"Our aim is for Australians to feel comfortable voting in a referendum and know how the process works."