The majority of work is on election day only. However, there is a wide range of casual roles and opportunities to work throughout an election period, typically around eight weeks, including roles in early voting centres, mobile polling and after election day.
Why work at elections?
Elections are a fundamental part of our democratic process in Australia.
Every person working at a federal election makes a valuable contribution to Australia's democracy.
At the AEC we are focused on delivering trusted, reliable, high quality and high integrity federal elections and other electoral events. Working at elections offers:
competitive pay rates
on the job training and support
a unique work experience
an opportunity to engage with the community, make new friends and expand your networks.
Register your interest
The AEC maintains a national register of people who may be offered temporary work during elections, including federal elections, by-elections, plebiscites and referendums.
If you wish to be considered for temporary election work, please submit an online Registration of Interest (ROI).
People from Aboriginal and Torres Strait Islander and culturally and linguistically diverse backgrounds are encouraged to apply.
In the lead up to an electoral event, the AEC will assess your application and may contact you, if suitable opportunities become available in your preferred locations. Please note, the AEC cannot guarantee employment.
Already registered for election work?
If you have previously registered with the AEC to work at elections, it is important to keep your details up-to-date. Log in to AEC employment.
Federal elections - facts and figures
Take a look at the facts and figures infographic to get an idea of what's involved in delivering a federal election.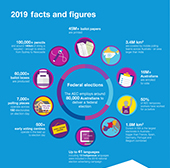 Need help?
If you have low vision or difficulty completing your ROI online, please call the AEC help desk on 13 23 26 for assistance.
Promotional resources