eReturns: Political Party Quick Reference Guide: Getting Started
Updated: 21 September 2012
Getting Started
Logging in to eReturns
Getting Credentials
eReturns credentials are mailed out to a party agent as part of the obligation letter sent to political parties in July each year unless the agent has already lodged an eReturn previously. Where a person has become the party agent of a registered political party and wants to gain access to eReturns, please contact the Funding and Disclosure section (FAD) on 02 6271 4552 or by email at fad@aec.gov.au.
eReturns credentials are posted to registered political parties via person-to-person registered post. This means the person who has been appointed party agent by written notice to the Australian Electoral Commission (AEC) must sign in order to collect the credentials. This helps the AEC to ensure that only the party agent has control of the political party's eReturns account.
Logging in
eReturns credentials will appear like this in the obligation letter:

eReturns credentials are made up of a user name and one-time password. On the first log-in to eReturns you will be prompted to change the password. There is also an option to change the user name. It is important that eReturns credentials are kept secure and not shared with anyone else. Party agents who have signed for credentials will be held responsible for returns lodged via eReturns using those credentials.
Getting Started
Once eReturns credentials have been received, the eReturns website can be accessed via your web browser.
Be careful! – eReturns is a secure website which means you must type 'https://' at the beginning of the URL.
At the eReturns webpage the following login screen will appear.
Enter the user name and password provided in the obligation letter and click 'Login'.
On first login
The first time you log in to eReturns you will be prompted to verify your details. To navigate through the eReturns wizard use the 'Back' and 'Next' buttons at the bottom right of the screen.
Step 1: Organisation Details
Political party details cannot be edited. If the party details are not correct you will need to contact the Registrar of Political Parties on 02 6271 4552 or by email at fad@aec.gov.au.
Step 2: Contact Details
Please ensure you enter your email address as eReturns uses email for validation and to send you copies of any returns which you lodge.
Step 3: Account Details
On this screen you will be able to change your user name if you wish. The first time you login you will be required to enter a new password and provide a secret question and answer and a PIN. The secret information will be used by AEC staff to verify your identity over the phone if you need to contact the Help Desk.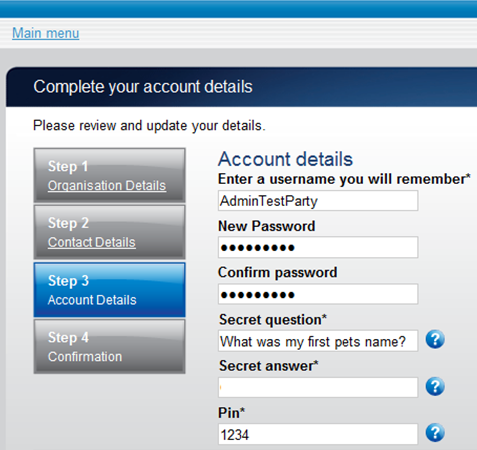 Once you have completed the Account details screen, click 'Finish'.
Step 4: Confirmation
eReturns will automatically generate a verification email and send it to your email address. Before your eReturns account can be activated you will be required to verify your email address. This is done by clicking on the link in the email.
Clicking this link verifies that you have access to the email account.
Once you have verified your email address you are able to start using your eReturns account.
Login
Click the 'Back to login' button to return to the eReturns login page.
From here, enter your user name and password to login – remember you will have changed your password and may have changed your user name.