1999 Referendum Report and Statistics - Background
Updated: 20 January 2011
Changing the Australian Constitution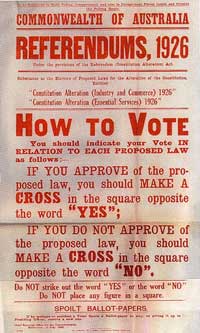 The Australian Constitution is a framework which defines the Australian system of national government and establishes the legal basis for Federal Parliament to make laws. The Constitution itself guarantees that the only way this framework can be changed is by a referendum - that is by asking all eligible electors whether or not they approve of the proposed law to change the Constitution.
Before a referendum can be held, a Bill must become a proposed law by being passed by both Houses of Federal Parliament or passed twice in either the House of Representatives or the Senate. The proposed law is then submitted to the direct vote of the Australian electors at a referendum no sooner than two and no later than six months after the Bill is passed by Parliament.
To become law, a proposed change to the Constitution must be approved by a 'double majority' of electors voting for the proposed change. That is:
a national majority of electors voting from all States and Territories; and
a majority of electors voting in a majority of the States (that is at least four of the six States)
the votes of people living in any of Australia's internal or external territories only count towards the national majority
Historical referendum results
The results of previous referendums show that the requirement for a 'double majority' has proven difficult to achieve.
Since Federation on 1 January 1901, there have been 42 proposals for constitutional change put to Australian electors but only eight proposals have received the 'double majority' required to be passed. A further five proposals, while receiving an overall majority of votes, did not gain a majority in a majority of the States.
A historical listing of Australian referendums held since 1906 is on the following page. Detailed results of these historical referendums at the national, State and Territory and divisional levels as well as by vote type are provided on the attached CD-ROM.
Referendum Dates and Results 1906–1988

| | Issue of Writ | Polling Day | Result |
| --- | --- | --- | --- |
| Senate Elections | 8 November 1906 | 12 December 1906 | Carried |
| Finance | 28 February 1910 | 13 April 1910 | Not Carried |
| State Debts | 28 February 1910 | 13 April 1910 | Carried |
| Legislative Powers | 15 March 1911 | 26 April 1911 | Not Carried |
| Monopolies | 15 March 1911 | 26 April 1911 | Not Carried |
| Trade and Commerce | 24 April 1913 | 31 May 1913 | Not Carried |
| Corporations | 24 April 1913 | 31 May 1913 | Not Carried |
| Industrial Matters | 24 April 1913 | 31 May 1913 | Not Carried |
| Railway Disputes | 24 April 1913 | 31 May 1913 | Not Carried |
| Trusts | 24 April 1913 | 31 May 1913 | Not Carried |
| Nationalisation of Monopolies | 24 April 1913 | 31 May 1913 | Not Carried |
| Legislative Powers | 3 November 1919 | 13 December 1919 | Not Carried |
| Nationalisation of Monopolies | 3 November 1919 | 13 December 1919 | Not Carried |
| Industry and Commerce | 26 July 1926 | 4 September 1926 | Not Carried |
| Essential Services | 26 July 1926 | 4 September 1926 | Not Carried |
| State Debts | 9 October 1928 | 17 November 1928 | Carried |
| Aviation | 4 February 1937 | 6 March 1937 | Not Carried |
| Marketing | 4 February 1937 | 6 March 1937 | Not Carried |
| Post-war Reconstruction and Democratic Rights | 4 July 1944 | 19 August 1944 | Not Carried |
| Social Services | 21 August 1946 | 28 September 1946 | Carried |
| Organised Marketing of Primary Products | 21 August 1946 | 28 September 1946 | Not Carried |
| Industrial Employment | 21 August 1946 | 28 September 1946 | Not Carried |
| Rent and Prices | 12 April 1948 | 29 May 1948 | Not Carried |
| Powers to Deal with Communists and Communism | 10 August 1951 | 22 September 1951 | Not Carried |
| Parliament | 28 April 1967 | 27 May 1967 | Not Carried |
| Aboriginals | 28 April 1967 | 27 May 1967 | Carried |
| Prices | 12 November 1973 | 8 December 1973 | Not Carried |
| Incomes | 12 November 1973 | 8 December 1973 | Not Carried |
| Simultaneous Elections | 20 April 1974 | 18 May 1974 | Not Carried |
| Mode of Altering the Constitution | 20 April 1974 | 18 May 1974 | Not Carried |
| Democratic Elections | 20 April 1974 | 18 May 1974 | Not Carried |
| Local Government Bodies | 20 April 1974 | 18 May 1974 | Not Carried |
| Simultaneous Elections | 27 April 1977 | 21 May 1977 | Not Carried |
| Senate Casual Vacancies | 27 April 1977 | 21 May 1977 | Carried |
| Referendums – Territories | 27 April 1977 | 21 May 1977 | Carried |
| Retirement of Judges | 27 April 1977 | 21 May 1977 | Carried |
| Terms of Senators | 26 October 1984 | 1 December 1984 | Not Carried |
| Interchange of Powers | 26 October 1984 | 1 December 1984 | Not Carried |
| Parliamentary Terms | 25 July 1988 | 3 September 1988 | Not Carried |
| Fair Elections | 25 July 1988 | 3 September 1988 | Not Carried |
| Local Government | 25 July 1988 | 3 September 1988 | Not Carried |
| Rights and Freedoms | 25 July 1988 | 3 September 1988 | Not Carried |
| Republic | 1 October 1999 | 6 November 1999 | Not Carried |
| Preamble | 1 October 1999 | 6 November 1999 | Not Carried |